I can't believe it - it's already August! The heat the past couple of weeks has been terrible - worse yet is the summer cold I'm fighting off, which has left me with a sore throat, so I can't use the a/c in my room or it gets too dry, gah! At least today the heat has broken *phew*
This year's deck party has come and gone, and it was really nice - less people this year though, I think because the forecasters were calling for thunderstorms (we got a five minute sprinkle and a ten minute light shower all day, no problem!) but that was okay, I got to visit with everyone and sit and enjoy the day. Folks sat on the roof, drinks were had, food was nibbled, all good.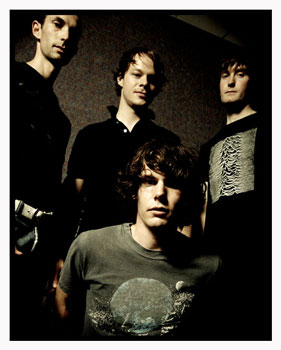 So this week has been crazy. I'm going to T's cottage tomorrow, so I've had to make sure all kinds of stuff was done in advance of my going, which has made for a hectic schedule! But I got to relax - lastnight I went with A and C to see The Editors at the Opera House!
The openers were a local band,
Tin Bangs
. They weren't terrible, they weren't even bad, but they didn't do much for me. They fell into the 'if I play it louder it'll sound better' trap. Really, they just reminded me of my brothers playing really loudly in the basement before they knew what they were doing.
Second opening band -
Lake Trout
. These guys were actually quite good, and I'd buy a cd. The one guitarist totally had what we like to call the 'Shawn Shimmy' (if you knew, you'd know). Much better than the first band.
And the main event -
The Editors
. Man, what an excellent show. Great energy, great sound, the singer seems to have Joe Cocker trapped in his body (he thrashed around a LOT), played all the great tunes. It was SO HOT lastnight, but I couldn't stop myself from dancing all over to them! I'm so glad I got talked into this show!
And then on to Tavern night tonight, which oddly turned into an 80s songfest *grin* My visit to Sonic Boom was relatively short too, since I've been a bit poor lately, so I came away with
Japan
(Souvenir From Japan),
Florent Pagny
(Bienvenue Chez Moi) and
Sondre Lerche
(...and the Faces Down Quartet: Duper Sessions), small haul but quality!